Travel Information
Hotel Reservation
Atractions

Covid-19 Guidelines: There are no covid-19 restrictions when entering Puerto Rico. As of October 1st, 2022, the mandatory use of a mask in massive events and the requirement to request evidence of vaccination or negative test at the entrances of buildings for events are eliminated. (Administrative Order No. 2022-551, Puerto Rico Department of Health). Following this official order:
Proof of vaccination or negative covid-19 test will not be required for SERMACS 2022 attendees. We still recommend taking the appropriate measures according to your personal situation.
The Commonwealth of Puerto Rico is a self-governed non-incorporated US Territory. The Island is roughly 3,500 square miles with an approximately 3.0 million inhabitants with a lively Spanish/Afro-Caribbean culture highly influenced by the American way of life. While attending SERMACS 2022, take time to discover and explorethe extensive array of experiences that the Island has to offer  its visitors. 
Passports are not required for traveling to Puerto Rico from USA.
Domestic travelers are not required to present proof of vaccination or a negative COVID-19 test prior to arrival on the Island.
International Participants
The San Juan Metropolitan area is served by the Luis Muñoz Marín International Airport (SJU).
Air Transportation: Most major airlines fly to San Juan from the continental United States and other international cities. You can fly non-stop from Atlanta, Boston, Chicago, Dallas-Forth Worth, Houston, Miami, Fort Lauderdale, Philadelphia, New York, Washington DC, among other US cities.
US airlines flying to Puerto Rico include American Airlines, Frontier, Continental, Delta, JetBlue, Northwest Airlines, Spirit, United Airlines, and others.
American Airlines Discount: All conference attendees traveling to SJU from the Southeast for SERMACS 2022 can obtain 5% off of published fares, excluding basic economy and non-discountable fares. For this, use the AA discount code code 98H2DV on your reservation.
Ground Transportation: The Luis Muñoz Marín International airport is served by taxis, limos, shuttles, buses and the two common rideshare services. You can check in advance or follow the signs near the airport exits upon arrival.  
The Puerto Rico Convention Center is located at walking distance from the Condado and Miramar areas, where the nearby hotels are located. A taxi or share takes around 15-20 minutes from the airport to Condado.
PLEASE NOTE: We have been informed that the SERMACS 2022 discounted rooms at the Sheraton Hotel & Casino (Convention Center) have sold out. We worked out a SERMACS 2022 discount deal with Courtyard by Marriot San Juan Miramar.  read below:
Courtyard by Marriot San Juan Miramar
801 Ponce de Leon Avenue San Juan, Puerto Rico 00907
(787) 721-7400

We have reserved a limited number of rooms at the Courtyard by Marriott Miramar, San Juan.  The room rate is $139 per night plus taxes and fees.  
Please note that the Courtyard San Juan Miramar is located just two miles away from the PR Convention Center. We do not offer transportation services, however you should be able to use Uber and/or taxis with no problem. 
Press the button below to book your group rate reservation for SERMACS 2022.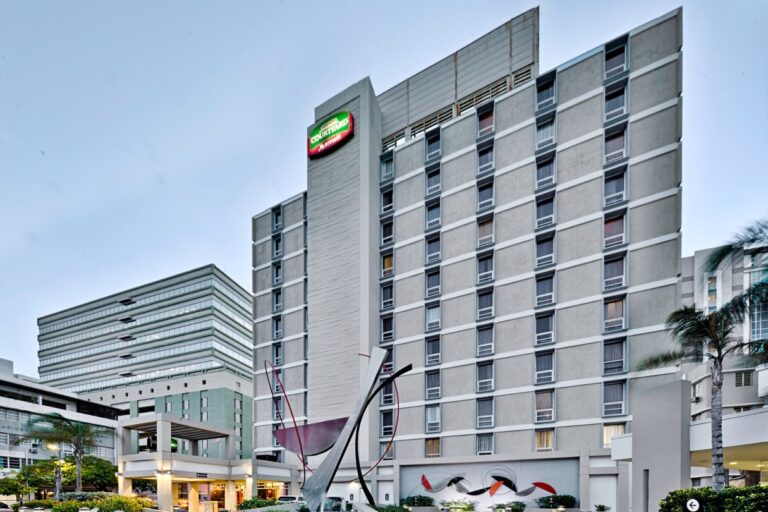 Sheraton Puerto Rico Hotel & Casino (SOLD OUT)
200 Convention Center Boulevard, San Juan, PR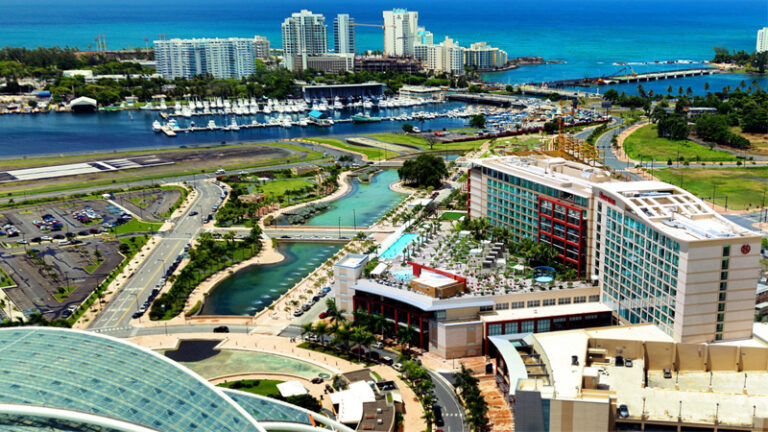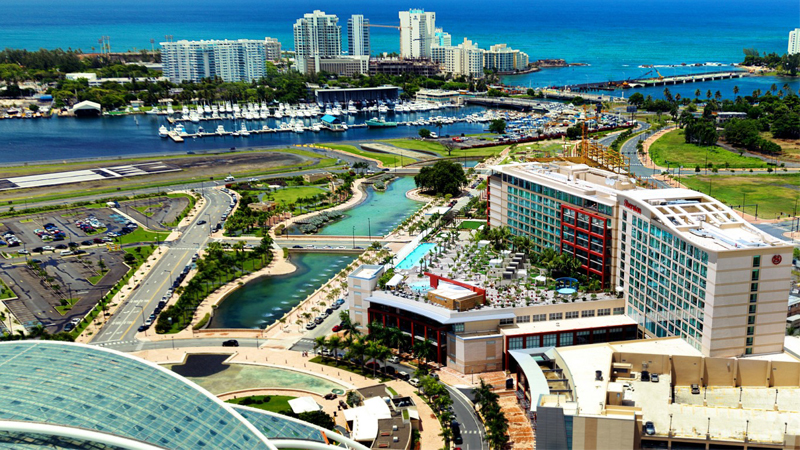 The reservations for the event will be made by individual attendees directly with Marriot reservations (1-866-932-7269) or directly with the local hotel (1-787-993-3500) using the reference number M-ESYT4FA.
There is a SERMACS 2022 special rate of $189.00/per night (single or double occupancy) and $219.0 (triple) or $249 (single). This rate is based on availability, plus 11% government tax and 16% hotel service fee. Reservations must be received before Friday September 16, 2022.
WARNING: Avoid potential housing scams. The Sheraton Puerto Rico Hotel & Casino is the only conference hotel for SERMACS 2022 and the group discount can only be accessed through this hotel via the link provided on this webpage. If you have any problem with your reservation, please contact Carlos Castañeda: carlos@lccmanagement.com; Cc. Tony Prieto at jose.prieto2@upr.edu for help.
How to Reach the Convention District
The Puerto Rico Convention Center is located at the  Convention District, which is at walking distance from the Condado and Miramar areas, where the nearby hotels are located.