Travel Information
Hotel Reservation
Atractions

Travel and Lodging Information
The Commonwealth of Puerto Rico is a self-governed non-incorporated US Territory. The Island is roughly 3,500 square miles with an approximately 3.2 million inhabitants with a lively Spanish/Afro-Caribbean culture highly influenced by the American way of life.
Passports are not required for traveling to Puerto Rico
International Participants
The San Juan Metropolitan area is served by the Luis Muñoz Marín International Airport (SJU).
Air Transportation: Most major airlines fly to San Juan from the continental United States and other international cities. You can fly non-stop from Atlanta, Boston, Chicago, Dallas-Forth Worth, Houston, Miami, Fort Lauderdale, Philadelphia, New York, Washington DC, among other US cities.
US airlines flying to Puerto Rico include American Airlines, Frontier, Continental, Delta, JetBlue, Northwest Airlines, Spirit, United Airlines, and others.
Ground Transportation: The Luis Muñoz Marín International airport is served by taxis, limos, shuttles, buses and the two common rideshare services. You can check in advance or follow the signs near the airport exits upon arrival.
The Puerto Rico Convention Center is located at walking distance from the Condado and Miramar areas, where the nearby hotels are located. A taxi or share takes around 15-20 minutes from the airport to Condado.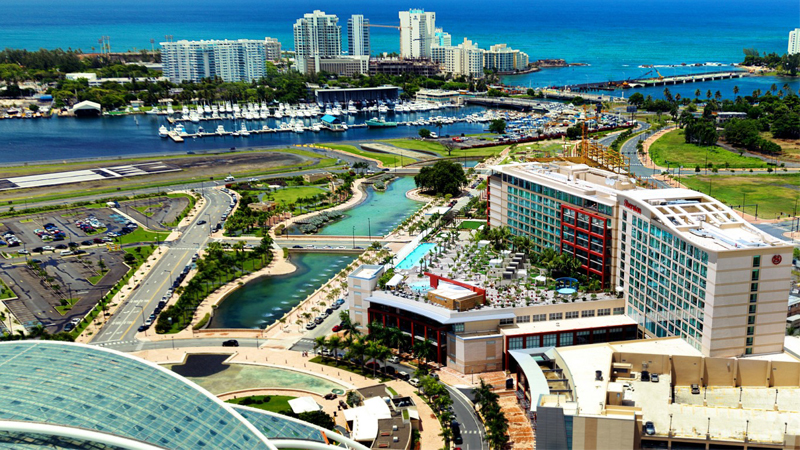 Sheraton Puerto Rico Hotel & Casino
200 Convention Center Boulevard
San Juan, PR
787-993-3500
The reservations for the event will be made by individual attendees directly with Marriot reservations (1-800-932-7269) or directly with the local hotel (1-787-933-3500) using the reference number M-ESYT4FA.
There is a SERMACS 2022 special rate of $189.00/per night (single or double occupancy) and $219.0 (triple) or $249 (single). This rate is based on availability, plus 11% government tax and 16% hotel service fee. Reservations must be received before Friday September 16, 2022.