San Juan, Puerto Rico
Puerto Rico Convention Center
October 21, 2022
i-RIPS –

Inclusive Remote International Poster Session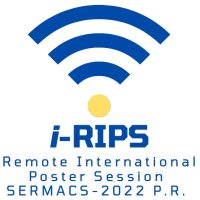 Saturday, October 22, 2022, 10:00 am – 11:00 pm Puerto Rico Convention Center, San Juan, PR
This special poster session provides international ACS student chapters and faculty members an authentic opportunity to participate remotely at SERMACS-2022. It facilitates inclusion of individuals who are affected by the backlog in the processing of US-visa applications and the challenging travel funding environment that derived from the pandemic. By specifically targeting international members who cannot travel to the conference site, this project enacts our goals to promote inclusion as a core value. Plenary talks and selected daily symposia will be available to remote participants. Thereby, i-RIPS provides young students and emerging faculty access to an international professional development experience and strengthens their sense of community and belonging to greater scientific endeavors.
This remote approach is novel and incorporates widely used web platforms to develop flexible two-way interactions between presenters and conference attendees. Presenters will create posters that will be displayed on-site and short videos that walk attendees through the posters (similar to self-guided museum tours). During the session, real-time Q&A will allow exchange of ideas between presenters and attendees. The session will occur on Saturday, October 22, 10:00am-12:00pm (Sci-Mix Poster Session V).
Individuals interested in presenting under this modality must first reach out to the session organizers, who will also address any questions or comments. Once pre-screened, participants will submit their abstracts via the SERMACS website.
This event is supported by a Global Initiative Grant from the American Chemical Society International Activities Committee.
Organizers/Contacts
Dr. Isaac Céspedes-Camacho, icespedes@tec.ac.cr
Dr. Carolina Guzmán-Quilo, carol_guzman1969@yahoo.es
Dr. Santiago Sandi-Ureña, guillermo.sandiurena@ucr.ac.cr